"I could not have been more impressed with Atlantis, and their staff. I have never before witnessed host hospitals so excited to be working with pre-med students. The quality, combination of experiences, and intention of the program is so evident...Atlantis comes with my highest recommendation, and I look forward to a long working relationship and many student group trips in the future."
Brenna Dunlap
Healthcare Programs Director
Eastern Oregon University
"This is a fantastic program that provides an immeasurably valuable opportunity for students. Not only because the affiliated medical professionals are exceptionally engaged with the interns, but because the exposure to other cultures and other medical systems is important to being a well informed, broad-minded physician."
Jana Prikryl
General Science Director, Biology Adviser/ Senior Instructor
University of Oregon
"I was impressed by the organization of the program and the enthusiastic welcome from the hospitals and physicians. Atlantis is run in an extremely ethical manner, and it is clear that the students have the opportunity to benefit enormously from their experiences. Atlantis provides an ethical and safe opportunity for students to explore their interests in medicine, and to experience health care systems that are different from those in the United States."
Seth J. Ramus, PhD
Director of Health Professions Advising
Bowdoin College
"I recently traveled to Spain at the invitation of Atlantis. As the Pre-Health Counselor for my university I caution my students to practice the observation based shadowing guidelines recommended by the AAMC especially when traveling overseas. During the trip we talked to physicians and fellows who knew that because this was an Atlantis sponsored trip, they were expected to follow these guidelines and were very excited about the opportunity to work and learn together."
Krysta Diehl
Pre-Health Counseling
Auburn University
Atlantis programs fill a unique niche in study-abroad offerings that meet the specific needs of pre-health students. The staff are extremely knowledgeable and committed to increasing global exchange in the medical arena.
Jennifer Hood-DeGrenier
Associate Professor of Biology; Chair, Pre-medical Advisory Committee
Worcester State University
"As a faculty director, I accompanied 7 of our students to the Azores Islands January 2015. Atlantis was great to work with and was very professional. [...] The hospital was small, so the students had the opportunity to work closely with the healthcare providers. [...]. Overall, it was a great experience."
Don Lehman, EdD.
Dept. Medical Laboratory Sciences, Health Profession Advisor, Center for Premedical and Health Professional Studies
University of Delaware
"I had the opportunity to visit the Atlantis sites in Toledo and A Coruna [....]. From the moment I stepped on the ground in Spain, the on-site and support coordinators made me feel welcome with personal tours of the Atlantis facilities and highlights of the cities. The undergraduate students spoke highly of the Atlantis and hospital staff, and the overall intensity of the program. Atlantis Fellows are able to shadow and observe many medical specialties that U.S. hospitals reserve for medical students only. The hospital doctors, residents, nurses and administration were impressed with the work-ethic of the Atlantis Fellows and appreciated their willingness to help with conversational English in the afternoons. Overall, I would highly recommend this program to any students considering medical school or another health-related profession."
Jill Russell
Director of Global Education
Lebanon Valley College
Maria J. Richart
Associate Director for International Outreach
Rochester Institute of Technology
Working with Atlantis and creating our first customized short-term program for our Pre-med students was very rewarding for me and my students. Atlantis staff is very detail oriented and will make this process as smooth as possible. From our first planning meetings during the summer to our pre-departure orientation in December, all our concerns and questions were met, and our students had clear understanding of what to expect as part of the fellowship program. I am happy with our partnership and I look forward to more ideas and ways to give our pre-med students opportunities to experience hospital shadowing in their field.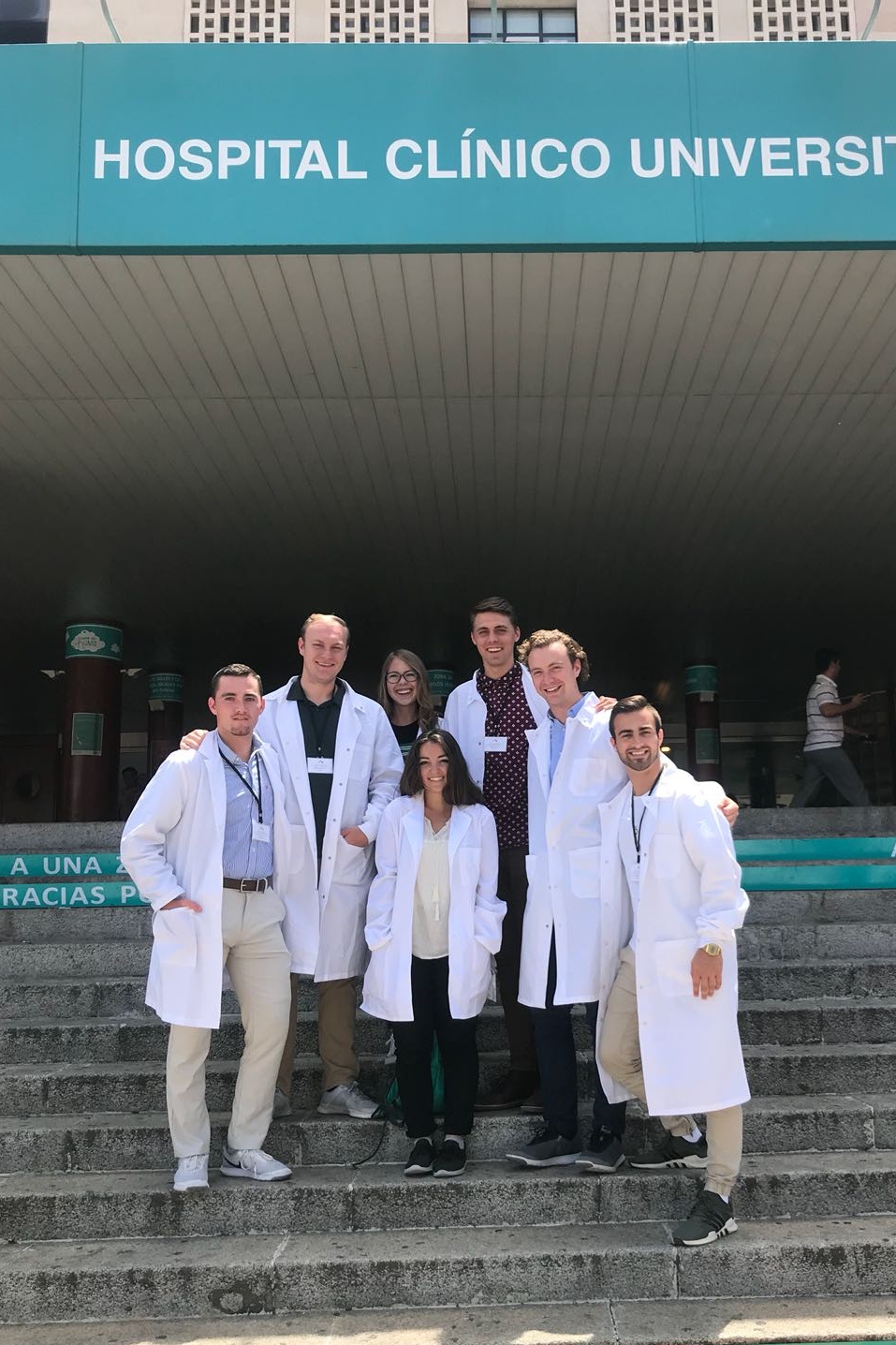 Katie Van Wyk
Study Abroad Coordinator
University of Arizona
The opportunities Atlantis has created for our students at the University of Arizona are amazing. With almost 9,000 Pre-Health students, we have a tremendous need for programming and Atlantis has created a niche for these students to not only study abroad, but gain experience shadowing in European hospitals. The students were provided an incredible experience this first summer in Toledo and Zaragoza and we look forward to sending more students on Atlantis programs in the future.
"After visiting a few of the sites, and speaking with students, administrators, and participating physicians, I'm very comfortable recommending Atlantis to our students. They are very aware of, and follow, ethical guidelines, which is important for any program our students may choose to go on. It's a flexible, mutually beneficial way for students to get shadowing experience at the same time as learning about a healthcare system different from their own."
Christine Richmond, M.Ed.
Academic Advisor, Pre-Health Advisor
College of Liberal Arts and Sciences
University of Florida
"I thoroughly enjoyed my trip to Spain [...] the staff of Atlantis made sure that we saw sites, staff and students involved with the program. They made sure that we had ample opportunity to ask questions and to get honest answers. It was reassuring to see how well the experiences are organized, and details are attended to so that students can feel safe, comfortable and welcomed. The hospital site visits were quite helpful as well, and it was clear that students are placed in settings that provide valuable experiences."
Don Batisky, MD
Executive Director, Pre-Health Mentoring Office
Emory University
Karen A. Palin, PhD
Department of Biology
Bates College, Lewiston, Maine
During a recent visit to Atlantis sites in Spain, I had the opportunity to visit several clinical locations where students shadow. The clinical facilities were impressive but more impressive was the dedication to teaching that I observed among the clinical staff. Every clinician who spoke with our group of advisors saw as his mission the teaching and mentoring of students in the health professions and their interactions with the students showed us they really meant this. Students participating in the Atlantis Fellowship told us (the visiting advisors) how much they were learning from their shadowing, how the mentors took the time to explain procedures and to answer questions, and how much they appreciated the opportunity to learn about health care provision in a system that is different from that in the US. This is a high quality shadowing opportunity that adheres strictly to the AAMC guidelines and provides students with different experiences than they are likely to have in the US.
The program is well-organized and well-staffed, with sufficient resources to accommodate student needs. The housing which we saw was safe and comfortable, in central locations convenient to transportation and to the shadowing sites. Students can also take advantage of the weekly cultural activities and excursions, unique to the various shadowing locations, offered in conjunction with the program.
Bill Wingard
Lead Advisor, Career Services Center
UC San Diego
I visited Atlantis in June, and we traveled to three sites near Madrid, including Zaragoza and Toledo. I think my favorite from a tourist perspective was Toledo, and I also like the housing there for students. From a clinical perspective, I liked Zaragoza, as the doctors there were very accommodating, and it was large with lots of medical specialties. Madrid was also interesting, being a large capital city, and the central point for students when they arrive for their orientation, which was very well planned.

If students can afford it, I highly recommend this experience. There were better opportunities for clinical observations than in many parts of the US. Doctors there are used to having medical students observe patients and procedures during the school year, and during the summer the pre-meds can take their place. And many doctors seemed to welcome the opportunity to have conversations with the US pre-meds. They see it as part of their educational responsibility, and also as a chance to learn about our health system in the US. And of course our students learn about the Spanish medical system, which is more socialized. And they also get to practice speaking Spanish, which I think is a huge asset for any future doctor in many parts of the US, including CA and TX. So I would highly recommend this experience to any pre-med students.